Details
Signature canvas stand bag designed to be as functional as it is stylish:

Genuine leather detailing
Water and stain proofed canvas exterior
Small zippered valuables pouch
Medium detachable zippered golf ball pouch
Large zippered clothing pouch
Leather detail holds two tees on outside of bag
Towel ring
Umbrella strap and fitting on outside of bag
Adjustable and detachable double shoulder strap
Matching waterproof zippered rain cover
Four way club divider on top
Sturdy frame and legs
Comfortable weight distribution for carrying bag
Features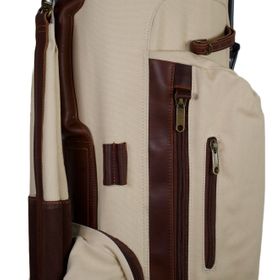 2 Zippered pouches on side of golf bag, 1 for valuables and another for rain gear, rain cover or other items. 2 slots for golf tees to be held for immediate access, as well as adjustable leather strap and bottom piece to hold umbrella.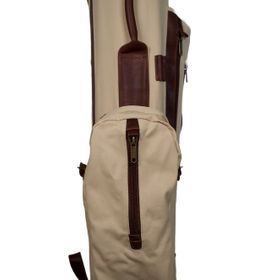 1 Large, detachable zippered pouch for golf balls, range finder, etc.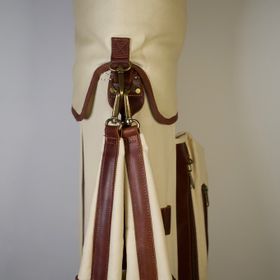 Zippered rain cover with metal clasp to attach to bag for protection.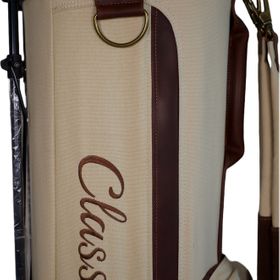 Towel ring and detachable, adjustable straps for comfortable fit. Sturdy, full leather handle for easy lifting of bag.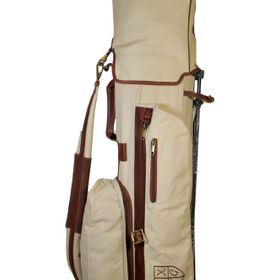 Water & stain proof outer shell to keep moisture and dirt away. Dust can be easily swatted off of bag, whereas dirt and mud can be washed off as well. The detachable golf ball compartment can be taken off, turned inside out and washed if necessary.
Specs
Category: Gear
Brand: Classic Style Golf
Type: Bags
Condition: New Item
You may also like